The SR1 School Radio Package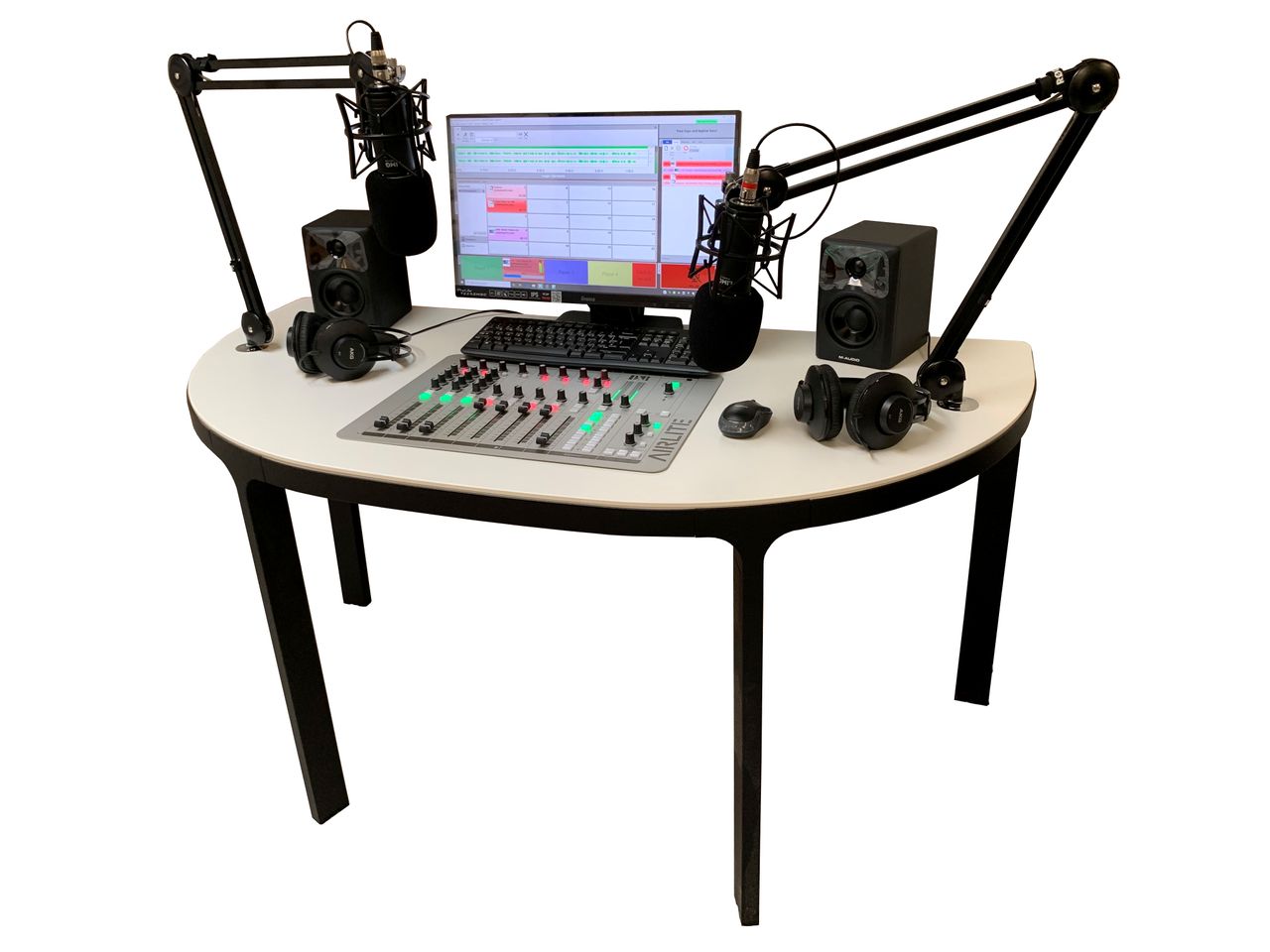 Designed as an ideal starting point, the SR1 concentrates on the core components to provide the best possible School Radio solution at an attractive price.
The package includes the D&R Airlite mixer, which features built in 'Skype' support and 'Favourite' buttons for playing audio in Myriad. You also get two condenser microphones on articulated arms as well as two sets of headphones. Everything is mounted on a stylish, modern wooden desktop.
The SR1 also includes a four audio channel playout PC complete with 22" touchscreen, pre-loaded with Myriad Playout LT and Myriad AutoPlay giving all the tools you need to run your School Radio station.
This package also includes 12 months support and 12 months streaming at no additional charge.
What's Included
1 x SR Range Semi Circle Desk, White Top & Black Frame (W1488mm x D750mm x H718mm - with mixer cutout)
1 x D&R Airlite
1 x Playout PC (small form factor)
1 x Wireless Keyboard & Mouse (USB)
1 x 22" Touch Screen Monitor
1 x Single Monitor Arm
2 x Rode Podmic
2 x Premium Rode Mic Arms
2 x Budget Studio Headphones
1 x Small Studio Speakers
1 x Surface Mount LED Mic Indicator Light (inc controller)
1 x Myriad 6 Playout - LT Edition
1 x Myriad AutoPlayer
1 x Small Studio Build & Testing
1 x Studio Package Custom Cabling & Connectors
1 x 12 x Month UK Office Hours Broadcast Radio Software Support Contract
1 x Annual Broadcast.Radio Standard Streaming (1000 streams @128kbps + Web Player)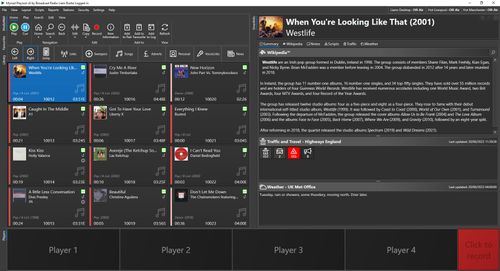 Myriad Playout Included - Why Compromise
Myriad Playout is the UK's No.1 radio playout and automation system and can be found in more radio stations than any other system. Myriad is also used across the spectrum of radio broadcasters with our customer base including commercial, community, hospital, internet, student and school radio. So the system included in your studio package is the same technology we supply to the rest of the radio industry.

Your studio package also includes Myriad AutoPlayer which is a simple, self-contained system for playing pre-recorded shows or lists of content at specific scheduled times. This is ideal if you don't need to broadcast 24/7 but do want your content to be played at key times.
Package Dimensions
The SR1 Studio is supplied as a complete package including a white ' half moon' desk with the Webstation mixer 'sunk' into it for a flush finish. The dimensions of the supplied desk are 140cm x 70cm and approximately 75cm high.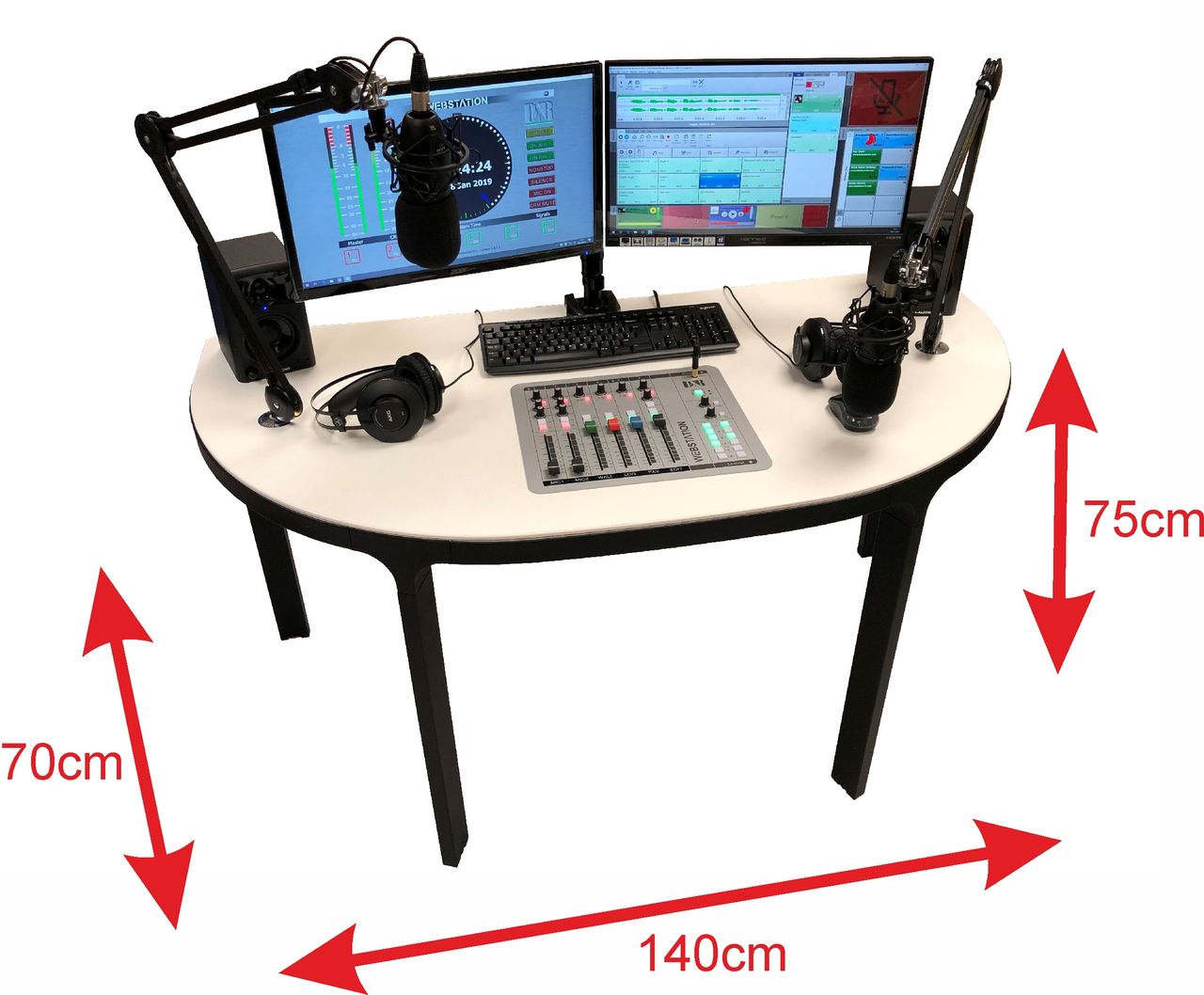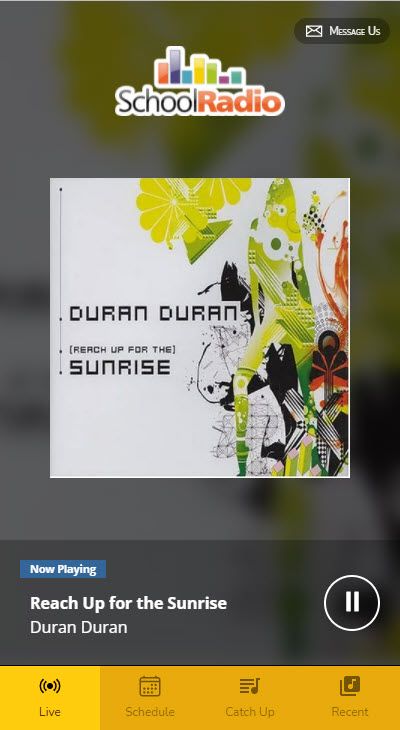 Includes 1st Years Streaming & Web Player
All School Radio packages includes a years free streaming and a customisable Web Player that you can easily embed on your existing school website, or you can use the one page 'micro site' included with your package.
You can also publish content directly to MixCloud which will also be listed in your embedded web player.
Upgrade Options
You can upgrade your School Radio package to enhance the ways that listeners can access your content.
Options include:
Full Website - Build a dedicated website for your School Radio station.
Mobile Apps - Have dedicated apps on Android & iOS for your School Radio.
Alexa Skills - Make your School Radio accessible by Alexa enabled devices.
For more details on your streaming and publishing options, talk to a member of our team.
Includes Printed Guide Book & Free Resources
Making School Radio programs can be very educational and fun, but if you are new to radio in general, where do you start?
In order to help our School Radio customers get started on their first content and support them with ideas for future School Radio shows, we have written a handy guide book that will walk you through the technical and creative aspects of planning, writing and recording your first School Radio show.
The book also includes some sample of resources to give you ideas for future content.
Every School Radio Studio Package includes a free printed copy of this book.
In addition, we also include free access to over 40 downloadable resources covering a range of topics and all linked to the National Curriculum.
School Radio Lesson Ideas
Roles In Radio
Bounty Island Books - Book Review Show
Conducting Radio Interviews
HistoryLive - Creative History Show Concept
Planning Shows
School Trip
Station Branding
Plus many more....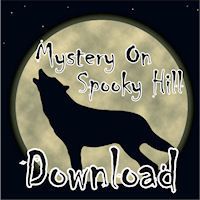 Free Example Resource - Mystery On Spooky Hill
This short radio play example package includes an introduction to writing drama for radio as well as production note and tips. It also includes a short scene from a radio play complete with script, sound FX and production notes.
The full resource pack includes:
Introduction & Key Skills
Relevance To New National Curriculum
Tips On Writing Your Own Radio Play
Cast List & Production Notes
Script - Scene 1 - Mystery On Spooky Hill
Sound Effect & Narration Audio Files
Technical Tips
Mystery On Spooky Hill was written specifically for School Radio and is not a complete play. Why not ask your students to write additional scenes to complete the story.